186 people ran, jogged and walked the Barrow parkrun course this Saturday, with 6 making their first appearance and an amazing 28 going into the weekend the best way possible by recording new Personal Best times.
Tourists were at the forefront for the ladies, with Tamar Trotters runner Louise Gregg coming in first with a time of 22:37 in her second appearance at Barrow. Second was Georgia Steers on her first visit to the Barrow course in 23:00, a great time on our hilly course for the Arena 80 AC runner who is more at home on one of the UK's flattest parkruns along Hove Promenade.Flying the flag for the local runners was Karen Oldham from Parkside Panthers taking third position in 23:23.
For the men, Levens Valley flyer Ryan Everett powered home in 18:08, the 40th time he's finished ahead of the field. Second was Tamar Trotters runner Paul Gregg in 18:17, not bad for a couple of tourists to bag top three finishes in both men and ladies! Third was Walney Wind Cheetah David Harker in 19:11 – great to see his affiliation back with the Cheetahs after a brief appearance under the "Zombies, Run!" club banner.
Notable milestones this week were junior Ella Matthews making her 10th run and Mum and Son team Claire and Charlie O'Hare making their 150th runs – lovely cake was had by all at the café to celebrate after the run.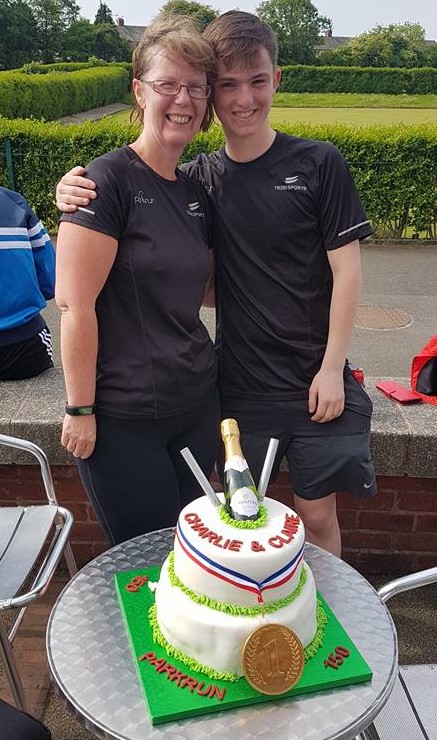 Full results, complete event history and loads of info for beginners or regulars can be found on the Barrow parkrun page at www.parkrun.org.uk/barrow.
parkrun is completely free to enter, just register at parkrun.org.uk so that you can  receive an official time, print off your paper barcode from the registration process and brig it along to the bandstand at 845 for a 9am start every Saturday, see you there!
Darren McS