Love parkrun


Welcome to our weekly dose of everything we love about Bushy parkrun.

Most of all we love our wonderful volunteers





By 8.15am the kit had been delivered by the equipment storage volunteers.





Alex and Joy were our volunteer co-ordinators this week.  Along with Pat, who answers all the emails at bushyhelpers@parkrun.com they assign the jobs to all the volunteers.  This week they had 49 willing helpers.  The previous evening they print out the roster list and assign the various marshals around the course, making sure no under 18's are left alone on the course.





The famous Bushy famous double funnel.  It takes an awful lot of organising to direct well over 1000 tired parkrunners over the finish line in the right order to collect their finish tokens.  Here funnel chief Ray is giving final instructions.





The stools are set out for bar code scanners, and the sorting table is set up.





"You hum it, I'll sing it". Timekeepers Hayden and Mel, Run director Ray, and funnel manager Merran.


As ever an enormous thanks to all our volunteers

Jane ASHLEY, Katie BARLOW, Joy BELL, Jack BENNETT, Jude BENNETT, Isobel CHARLTON-LEE, Ray COWARD, Nicolette CRINALL, Jack CROWTHER, Izzy DAY, Robert EVESON, Jude FISHER, Ray FRANKS, Robert FREY, Lina FRIZZARIN, Fernando GONI, Jad HAIDAR, Emily HARRISON, Finley HARRISON, Robby HEDGES, Bianca HOLLIS, Melanie HOWES, Emilie HOWES, Stephen IGGLESDEN, Jeremy JOHN, Samuel JONES, Catelin LE FRANC, Hayden MATTHEWS, Fiona MCANENA, Denise MITCHELL, Pat NAIR, David PAPWORTH, Eoin PARFITT, Lucy PORTER, Kevin QUINN, Ian RILEY, Amy ROBERTSON, Merran SELL, James SELL, Jonathan SMITH, Guy SNOWDEN, David STEWART, Wendy STOKES, Carol SWAFFER, Amelie THOMAS, Alex TICKELL, Mike TIVNEN, James WHISTLER, Fran WYLDE
If you want to look as happy as those above why not get involved and volunteer?


Visitors and participants






This jolly lot from Zero to Hero Runners came on a coach from Bromley.   They were a friendly bunch and very pleased to be at the home of parkrun.  We had the pleasure of meeting young Heath aged 9 in the queue in The Pheasantry afterwards (he's the smallest one in the front). Not only was he a lovely young man, he's also very fast.  His PB is 20:36!





Best outfit of the day goes to 6 month old Amelie who has already taken part in 8 events!  Obviously she's too young to have her own barcode but she's a happy participant at Bushy and without doubt the cutest.


The Run

Ray Coward was the run director today. He managed to completely confuse everyone by standing at the back instead of the front.  The speakers and the shhh signs were in the crowd in an attempt to see if everyone could hear him better, and to stop the talking at the back (sounds a bit like school).





"It's that way"





Run like the wind!  Or should I say run into the wind. A definite feature today was the howling gale along the back straight and down the final 600mm, but 1317 of us managed to battle our way round the course.  There was also quite a lot of mud.  Despite the conditions, 82 athletes manged Personal Bests. Well done to all!


The course and our fabulous marshals

There were 17 marshals out on the course cheering us on.  This is a small guide to each marshal point:




There are 9 marshal points on the course





Marshal point no 1 is the set up, it's all about putting out the tape to stop runners spilling over the edges, putting down the spacers for the start line, holding up the shhhh run brief signs, and stopping anyone crossing into the path of runners, joggers, walkers, buggies, wheelchairs, and dogs as they hurtle off from the start.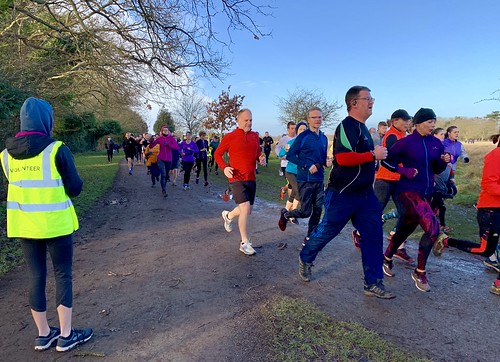 Marshal point no 2, as some of you know is a new position near the cricket pitch (hence why it's not on the map above).  Mainly it's there in consideration of park users coming in from Church Grove Gate who may not be aware of the mass of runners about to thunder past





Marshal point no 3. as you turn onto to cobblers walk and onto the concrete path.  This is around the 1 mile mark, and is a welcome gentle downward gradient (and sometime steeplechase).





Marshal point no 4 & 8 (the crossover) at 2km.  This is where you turn right into Warren Wood and (often) mud.  Then you come back from the other direction on your way back.





Marshal point no 5 (Elisabeth's Corner) The eagle eyed amongst you may have spotted that Elisabeth was absent this week, so I've cheated and used an old photo (one of her favourites).  She felt it was a bit too windy for her this week and was sorry to miss it. For those of you who don't know the wonderful story of our honorary marshal it's worth repeating.

Elisabeth is a resident in the care home opposite Bushy park. When she first moved there she would watch parkrun from an upstairs window, and did so all through the winter of 2016 enjoying the spectacle of runners streaming round. However, once spring came, she couldn't see the runners any more as the view was obscured by leaves. So she decided to venture across the road to see if she could watch at closer quarters. Happy chance meant that there was a marshal point just the other side of Sandy Gate entrance, and so she quickly made friends with parkrun volunteers there. After a few weeks she was given her own hi- vis vest and the rest, as they say, is history.

Some of you will have seen the facebook post last week from her daughter Lucy, thanking everyone for her Christmas and Birthday cards.  Elisabeth turned 90 in January.






A short profile of Elisabeth

Elisabeth and her late husband Tyrrell moved to their family home in Teddington in 1959 and lived there for over fifty years. They had a close relationship with Bushy park and were both active members of the Friends of Bushy and Home Park, and Tyrrell used to lead regular mistletoe walks on Valentine's Day in Bushy Park and this would end with a picnic at their house hosted by them both. Elisabeth volunteered at what is now the environment centre encouraging young people to explore nature in the park with pond dipping and similar activities. They were both active members of the Ecology and Conservation Society as well. Elisabeth knows the park really well and has a keen interest in its environment and those who use it.

Elisabeth is a great believer in community and anything that fosters community, like parkrun. She is most vocal about how brilliant parkrun is for bringing different people together, and making connections too. She doesn't only interact with parkrunners on a Saturday morning, she has come to know other people using the park too. Through her involvement a number of parkrunners from all over the UK and even internationally have got in touch with her, and many have shared their stories of what parkrun means to them.

Her daughter Lucy, a regular parkrunner in Sheffield, finds it comforting that they are both experiencing parkrun at the same time albeit in different locations. She says Bushy parkrun is massively important to her mother, so much so that Elisabeth has asked to be buried in her hi-vis vest (and Lucy thinks she's serious). Lucy finds it enormously reassuring to think that her mother has a crowd of people looking out for her each Saturday, and calling "thank you Elisabeth" as they run past. One Bushy regular says even when she's not at her corner he and others wave up at the windows in case she might be watching.

Elisabeth has been there, cheering us on, since spring 2017 which means she's volunteered on roughly 80 separate occasions. The only things to keep her away are ice or illness. The corner has been officially re-named Elisabeth's corner by Paul Sinton-Hewitt and can be seen on the lanyard that volunteers wear when they marshal there.




Elisabeth is keen for everyone to know that every wave, smile, greeting, chat, or card is hugely appreciated. Just the spectacle of runners streaming by even if they don't acknowledge her at all is a wonderful thing to behold. She feels and shares the parkrun love.





Marshal point no. 6 takes us to Teddington Gate, where we turn left onto Chestnut Avenue.  This can often be a slippery affair.





Marshal point no. 7 we turn left back on to Cobblers Walk and concrete.   This is sometimes sunny, often full of puddles and usually pretty welcome because the 4km mark is half way along by the big tree.





Marshal point no.9 takes us to the bridge and (thank god) it's nearly over.  About 400m alongside the pond and you've done it.
Thank you marshals!  We couldn't do it without all your enthusiastic encouragement and support along the way.


First Finishers

Men

Ross Murray 16:48

Daniel Titcomb 17:25

Andrew Smailes 18:06

Women

Ava White 18:53

Isabel Livesey 20:11

Emma Harris 20:46

Boys

Joseph Cowley 18:34 New PB

Kiran Lathia-Hamblin 18:43 New PB

Matthew David Tyas 19:38

Girls

Ava White 18:53

Isabel Livesey 20:11

Abby McGlone 21:53





Don't Forget Your Barcode

Average time of 29 minutes and 22 seconds Many of you will have seen parkrun in the news this week announcing that the average finishing time is the slowest since it began. It is now 29 minutes and 22 seconds, more than seven minutes slower than the 22 minute 17 second average recorded in 2005. This is all part of the ethos of parkrun to attract absolutely everyone whether you run, jog, roll, hop, jump or walk. This week the following athletes ran the closest times to 29:22: Kirin Taylor 29:20 and Holly Gregory 29:24.

Milestones
50
Emma Harris
Jan Cheng
Jason Casey
Melissa Halck
100
Chris Gearey
Clare Le Voir
Peter  Le Voir





Bushy regular Stuart Amory ran round today with his balloon for his 'unofficial' 200th run.  Well done Stuart!  He's one of our fave marshals as he often comes equipped with cow bells, music and small children.

Also someone came up to me at the start and asked about mentioning it was his 'unofficial' 300th run.  Sorry I didn't get your name, but going through the results it's either Stephen Martin or Simon R - either way congratulations to you both!





The fabulous oak tree at the finish





All sorted for next week.


We have just launched our Bushy parkrun Instagram site. Please use #bushyparkun when you post your photos intagram.com/bushyparkrun




See you next Saturday

Wendy
Don't forget you can now follow us on Twitter at
www.twitter.com/bushyparkrun
and for Bushy parkrun on facebook
www.facebook.com/bushyparkrun
and for parkrun UK on facebook at
http://www.facebook.com/parkrunuk
Interested in volunteering at Bushy parkrun? Please e-mail bushyhelpers@parkrun.com
Want to give feedback? Have anything to say or want anyone mentioned in future run reports? Please e-mail bushyoffice@parkrun.com