We want to share our AED!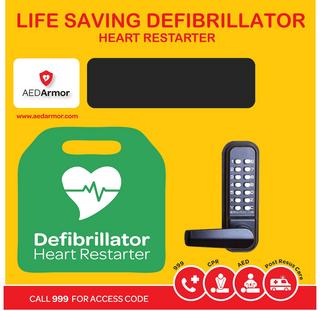 Darlington parkrun owns an AED (automated external defibrillator) - an amazing bit of medical technology used to help those suffering cardiac arrest. They're easy to use devices which save hundreds of lives every year.
Our defibrillator is currently only made available during Saturday 5k parkrun and Sunday 2k junior parkrun. We think it makes sense to make this potentially life-saving device available to the general public in South Park.
We can do this by purchasing a special locked AED cabinet, which will be mounted to the wall of the Education Centre, next to the Clock Tower. The cabinet is opened using a keycode - this code will be known to the parkrun volunteer teams, and will be registered with North East Ambulance Service, who can advise the code to anyone who calls 999.
AED cabinets are a proven, effective, secure way of making life-saving AEDs broadly available.
We need your help! We have got permission from the council to mount the cabinet... we have a most generous offer to install the cabinet for free, from one of our lovely parkrun community... now we just need some money. The cost of an appropriate AED cabinet is just £439, and we're asking for donations from the local parkrun community to fund this.
You can ONLY donate to this appeal by visiting http://www.parkrun.org.uk/darlingtonsouthpark/aboutus/ and clicking the "Donate to parkrun" button.
We'd love to donate access to our AED to the community, who let us enjoy the park every week. Thanks.