I've been really looking forward to run directing this run. I love dressing up! I was so pleased so many of you got into the spirit for our spooky Halloween special too! I went for the scariest thing I could think of; a real apex predator! The silent killer of the deep. Death incarnate. A Great White shark! Imagine how deflated I felt when you lot started singing Baby Shark at me!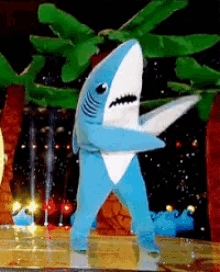 We are very grateful to the terrifying team who made this event happen: Linda ALLEN, Emma BENNER, Damian BENNER, Tom BLAKEY, Jake BROUGHTON, Laurence COE, Chris COE, John ENGLAND, Tom ENGLAND, Ann FISH, Matilda FRANKLIN, Neil Scott FRANKLIN, Sarah HORRIGAN-FULLARD, Matthew MARSHALL, Steve MARTIN, James MARTIN, Ted SELBY, Joanne TANNER, Zoe TANNER, Jonathan TANNER, Judith TOWNEND, Alice TOWNEND, Ewan WANE, Julie WEBSTER. Special thanks to Emma, who stepped in at short notice as a tailwalker (and provided her own tail), to Alice who did double duty as a marshal sprinting from marshal point 2 to marshal point 13; and to Ewan who led the warm up, set up the funnel and also did the umpteen other things Ewan does for us every week.
Three mistakes happened this week that I will confess to. The first was I forgot the big tub of sweets I'd intended to hand out for all you trick or treaters. I guess next week it'll have to be tricks! (sorry Tamsin).
The second mistake was I got my words the wrong way around and said parkrun was a race and not a run. NAUGHTY SHARK! BAD SHARK! I have had to sit on the step for 43 minutes this afternoon to think about my actions.
I got to give Seb Sanderson his wristband for completing 50 junior parkruns - What a star! If you're reading this, I suspect you already know that's the equivalent of an ultra marathon. I missed out on the opportunity to give a half marathon wristband to George and a marathon wristband to Esme Cope. Maybe one of the other run directors will have that honour in the coming weeks.
After the warm up led by Ewan, we led you over to the start, corrected myself that it's a run and not a race and you were off!
You did an amazing job! For me, this week wasn't really about going fast, but having fun! I hope the four of you who joined us for the first time had fun.
There were another four of you who managed to get a new PB this morning including your first finisher, Ben Taylor. Your highest placed finisher this week by age grading was Megan Taylor, with an age grading of 71.58% in the JW11-14 group. If you're not sure what that means, it means she's quick! Really, really quick!
My absolute, hands down, favourite bit from this morning was having young Gabriel, dressed as a very cool Spider-Man, ditch the finish line to run towards me instead, singing Baby Shark. Happy 5th birthday, Gabriel!
Which is what got me through Mistake No. 3, which was all to do with results processing. I'll not burden you with the details, but hopefully most of you now have your results! Five of you may still be waiting. If this is you, reach out to us and we'li do our best to recover your time.
Next week Tamsin will be leading an intrepid team of volunteers If you want to join in the fun, get in touch!