The first run of 2018 and the course starts as it ended in 2017, very slippery and muddy, 105 people ran, jogged and walked the 5km, of whom 16 were first timers and 3 recorded new Personal Bests. Representatives of 16 different clubs took part including Vegan Runners and Elmbridge RRC.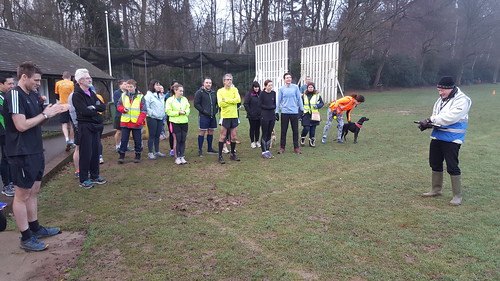 Welcome to Rupert DEVEREUX, Luke BATTING, Oscar CAMARGO,  Bea BONTES, Joanna SHILLABEER, Tracey OWEN and Sarah PENNINGTON who all must have made a New Years resolution to come and join us here at Homewood parkrun, it was great to see you all and hope you enjoyed the experience, well done on reaching your first milestone, run #1.
Congratulation to Daniel EVERALL and Larisa ANDRONACHE on completing 25 parkruns, half way towards joining the 50 club and claiming a red shirt.
The event was made possible by 19 amazing volunteers led by this weeks Run Director Steve DYE suitably attired in some lovely wellies: Calvin MANNING • Samantha PENNELL • Sam BLOOMFIELD • Kate HICKEN • Vicky BURR • Dave FITTON • Phil GARTY • Suzi BOWEN • Sidrah SHAFAQ • Jason TUTTY • Steve DYE • Jane STRATFORD • Dee HARPER • Lisa MCLAREN • Della KENDALL • Ian HARPER • Joseph MARDELL • Cora GILLETT • Holly STILLINGFLEET
Today's full results and a complete event history can be found on the Homewood parkrun Results Page.
5 Unknown runners this week, #DFYB Don't Forget Your Barcode! Why not print out a spare from your profile page and keep in your car or bag?
Most symmetrical time of the week was Dan SKERTEN finishing in 25:25, first female across the line was Homewood Event Director Suzi BOWEN in 26:19 and first male was Chris DYSON in 18:41. Good running and walking everyone, remember nobody finishes last at parkrun!
It was great to welcome tourists to Homewood this week, including from nearby Bedfont Lakes and Reading, in fact Homewood is firmly on the tourist map coming in 7th most visited parkrun in the UK in 2017, with 365 people visiting at least once during the year, not surprisingly Bushy, the birthplace of parkrun topped the list with 902 visitors.
More pictures from today's event are available on our Flickr group page : https://www.flickr.com/groups/homewood-parkrun/
Every week we grab a post parkrun coffee in the Old School Café, Longcross Road, Chertsey, KT16 0DP - you are most welcome to come and join us!
Great running everyone, see you next week #DFYB Don't Forget Your Barcode!
#loveparkrun
Jason